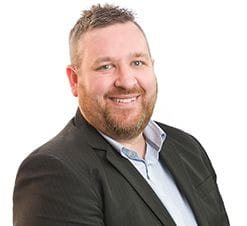 GET TO KNOW BLU MORTGAGES' PROBLEM-SOLVING GURU, JEFF WOOD.
What are you most passionate about at Blu Mortgages?
"I love listening to a client's goals and aspirations and have a real desire to help bring their dreams to life. We are all so different. It is fascinating to learn what motivates people and understand what they aspire to".
What is your broking specialty area and why does it interest you?
"Land, construction and first home buyer loans. It is a real privilege to help client's get on, or climb up, the property ladder".
What can you typically be found doing when you aren't at work?
"When I get a spare moment, I love binge watching true-crime on Netflix. Who doesn't right? These crimes don't solve themselves".
If you could describe yourself in three words what would they be?
"Trustworthy, reliable and friendly"
What is the one thing that can instantly make your day better?
"Notifications advising that my client's loans have been approved or settled really puts a spring in my step. Bringing their dreams one step closer to reality is a fantastic feeling".
If you had one superpower what would it be?
"The ability to read people's minds. But blasting ice from my hands would be pretty awesome too!"