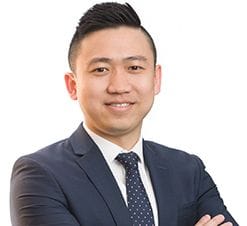 GET TO KNOW BLU MORTGAGES' SMILING ASSASSIN, SHAUN LIU.
What are you most passionate about in your role at Blu Mortgages?
"I love witnessing the results of working hand in hand with clients. Playing a small part in bringing their hopes and dreams to life is the greatest".
What is your broking specialty area and why does it interest you?
"Residential mortgages and property development finance. No two clients are the same. I love working out tailored solutions for each and every one".
What can you typically be found doing when you aren't at work?
"Probably thinking about work. I am a true Blu warrior".
If you could describe yourself in three words what would they be?
"Reliable, compassionate and committed".
What is the one thing that can instantly make your day better?
"Sharing a small act of kindness. It's the littlest things that can make someone's day totally turn around which can make your day better, too!"
If you had one superpower what would it be?
"The power to have all the powers I want. I can't just settle for one."
If you were shipwrecked on a deserted island, what two items would you take with you?
"Who wants to spend hours trying to start a fire by rubbing two sticks together? It would have to be two boxes of matches to start a fire, feel warm and be able to cook."